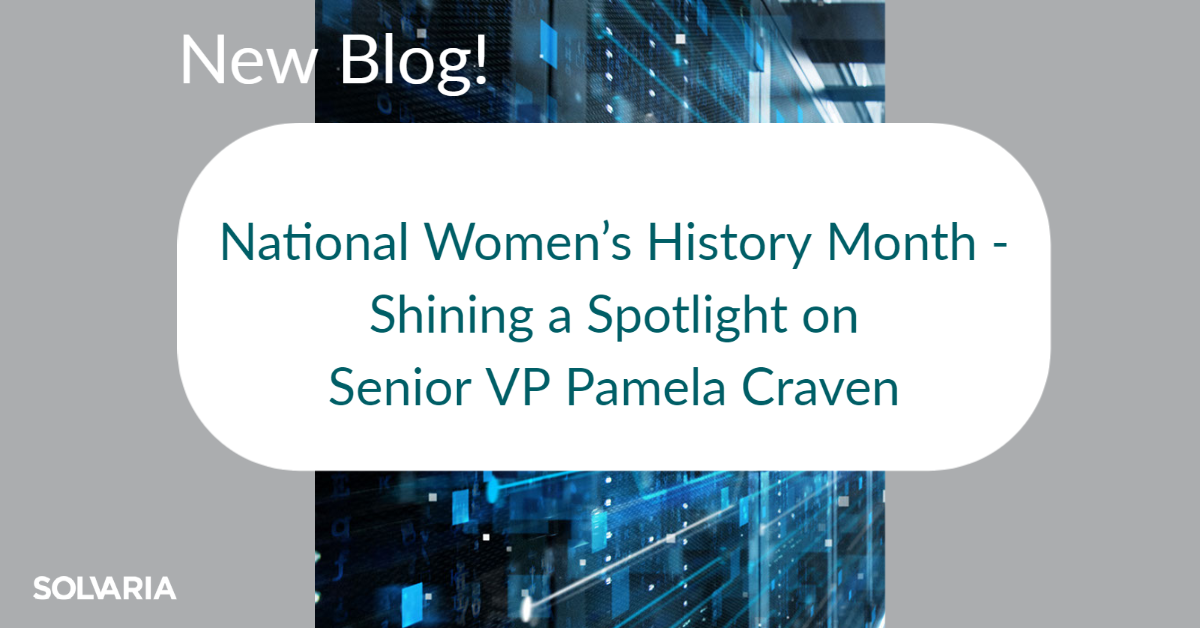 Published on March 2, 2023 by Jennifer Leider
Happy National Women's History Month! This has been a national celebration since the 1980s; after being petitioned by the National Women's History Project in 1987, Congress passed Pub. L. 100-9 which designated the month of March 1987 as "Women's History Month." The country celebrates the contributions women have made to the United States and recognizes the specific achievements women have made over the course of American history.
We had a quick interview with Pamela Craven, Solvaria's Senior VP of Client Services. Since 1989, Pamela has worked hard to achieve success in IT Sales and Account Management. In her 30+ years in IT, Pamela has served as a leader in a mostly male field. She is respected by all that know her because of her genuine personality and her ability to "get things done." During a time when there weren't many women in the industry, she has built an extremely successful career on kindness and determination.
How has Solvaria changed since you've started here, and what impact have you had on the change
We have grown, matured and rebranded over the past 13 years. We strive to build talented teams that work well together on behalf of the customer and the company. I have assisted with this process and helped to put together a talented, diverse, dedicated team of data engineers/database administrators.
What advice do you have to aspiring women in tech?
My advice to women is that the tech has never been more in need of capable women in all areas of technology. The industry wants and needs your talent and the soft skills that you convey.
What is it like being a woman in a male-dominated field?
I have seen the technology industry change and advance over the past 20 years. I remember being the only female in the room for most meetings. Large conferences only had a few females and many were there in an administrative capacity. It has been an interesting and rewarding journey.
Have you noticed an upswing in women in our field?
Absolutely, women have been involved in technology long enough now that they are moving into management, director and C-level positions.
Where do you think DBAs or data tech leadership will be, gender-wise, in 10 years? In 50? Will it matter as much, and why or why not?
As noted earlier, the opportunity for women in tech has greatly improved over the past 10 years or so. Many of these ladies have worked their way into leadership positions. Women offer different perspectives, management style and problem-solving skills. This also opens the door for more opportunities for women.
How does Solvaria promote gender inclusivity? How does Richmond promote gender inclusivity?
Solvaria has always hired based on the technical and softskills, not gender or race. I believe that the Solvaria culture has always promoted inclusivity across the board. And
Richmond provides many networking tech groups for women as well as WIT, Women in Technology that offers mentoring for women, technology instruction and career assistance.
Solvaria CEO Greg Samuels had this to say about Pamela - "Pamela is the heartbeat of this organization. She not only leads the sales team, but she embodies the culture and spirit of Solvaria. Women and men alike look up to Pamela and the way she conducts business. There is simply no other person I would want leading the charge with our clients."
Happy National Women's History month!
Share on
Back to Resources