Production Server Performance Assessment
For a small or mid-size business, database performance issues can mean decreased process efficiency, data stability and even profitability, making it increasingly important to identify the origin of issues immediately. Solvaria's Production Server Assessment offers a quick, affordable, high-level view into the health of a Production Oracle environment or environments to provide solutions to database performance issues in just 48 hours at a fraction of the cost of a full-scale database assessment.
How it Works
Solvaria has created a non-intrusive, automated utility that is specially-designed to quickly and efficiently collect data needed to analyze the health of the key areas of the server or servers. The utility runs for a configurable duration of time (exact time depends on the number of servers) and closes automatically, then packages the data and returns it to Solvaria's team of senior-level database administrators. All data collection occurs within your environment. A Solvarian DBA can collect data on-site or remotely. Our team analyzes the data and provides a high-level dashboard report and summary of key findings in only 1 – 2 business days.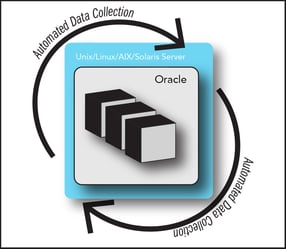 Want to check out the health of your Oracle Database? Fill out the form below to get started!